GoTa terminals are trunked radio terminals, independently developed by ZTE, that enable abundant and professional trunked radio services. Since 2003, ZTE has developed several generations of GoTa terminals, which are applied to various fields in radio trunked communications and satisfy the requirements of different users.

Based on different market segments, ZTE clearly defined two development trends for GoTa terminals: professional GoTa terminals and consumer GoTa terminals.
Professional GoTa Terminals
With its experience accumulated in developing ordinary consumer handsets, ZTE has launched several professional hand-held terminals, offering multiple choices to GoTa users.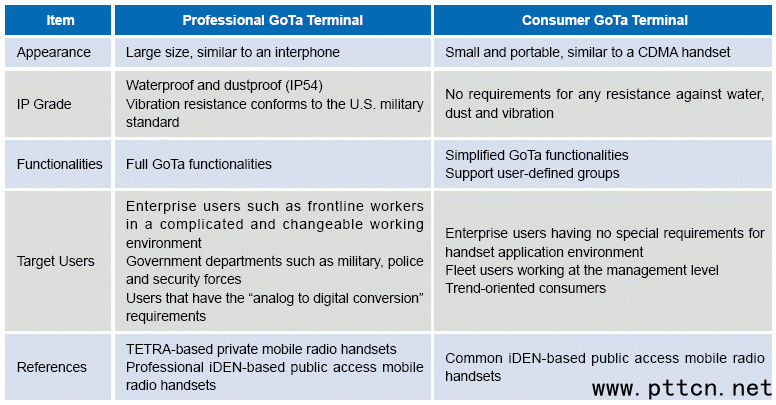 G600 series
The G600 series is waterproof, dustproof and shockproof to the IP54 standard, meeting the trend of professional trunking communication. Its target users are government agencies, public institutions and enterprises that need trunking as well as voice communications.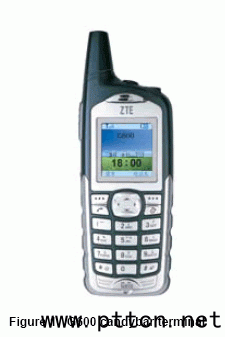 With candybar style, reliable quality and complete functions, the G600 terminals are well received by users, becoming the dominant products in the trunking communications market. Their functions and performance are constantly improved as the GoTa technology is getting more and more mature.

G5100 series
The G5100 series is the first professional trunking terminal applied in the European market. With the shape and style customized for European operators, it incorporates the GoTa technology and delivers professional trunking functions.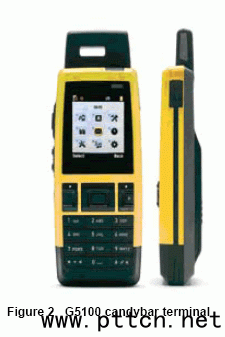 G612 series
As the GoTa market expands, users are segmented into different groups. To satisfy the requirements of frontline personnel, ZTE developed a new generation of G612 professional interphone series. Its target users are frontline workers and management staff who use interphones as their working tool, especially enterprises and public institutions that have the "analog to digital conversion" requirements.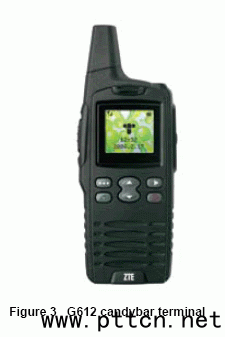 The G612 series is simpler in appearance and functions than the G600. It weakens the voice call function and enhances the trunking function. The G612 has graphic interface and is easy to use.
G652 series
The G652 series, an enhancement of the G600 series, provides two models operating at 800MHz and sub-800MHz bands. Meeting the IP54 standard for water and dust resistance, the G652 adopts advanced 13-pin audio/data interface and is receptive to the standard fittings of other professional vendors. It has a replaceable antenna, a 0.5W speaker with 36mm in diameter, and portable back splint.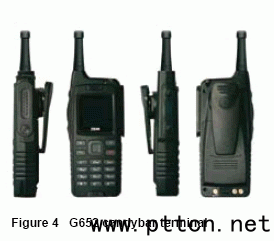 G780 series
The G780 series includes several models operating at 800MHz, sub-800MHz and 450MHz A/B/L bands. Being a major breakthrough in the professional trunking terminal market, the G780 has gained popularity from government departments such as military, police and security forces. It provides 3800mAh lithium battery supporting 10 to 12 hours of continuous use; a convenient knob design for group selection and volume control; waterproof and dustproof to the IP54 standard; vibration resistance compliant with the U.S. military standard MIL-STD 810 C/D/E/F; new UI design with user friendly and easy to use features; and optional Global Positioning System (GPS) function.


VJ800 vehicle-mounted station
Vehicle-mounted products are not only an important part of a GoTa trunking system but also a strong link in the GoTa terminal industry chain. They are mounted on automobiles, ships and other transportation vehicles, providing the same or higher-level trunking services than handheld terminals.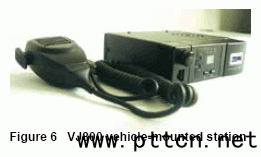 The VJ800 vehicle-mounted station provides the basic trunking call functions and weakened voice call functions. It has been extensively applied in ports and transportation sections, winning a favorable reception from users.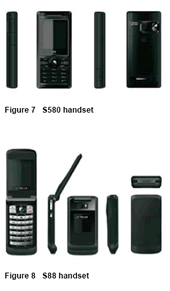 Consumer GoTa Terminals
Consumer GoTa terminals are designed for professional trunking users working at the management level, enterprises and public institutions that have no special requirements for handset application environment, service industry including restaurants and hotels, and fashion-seeking youngsters. These users occasionally or often use their handset terminals for professional trunking services in addition to general voice communications, but they have no strict requirements for the application environment.

Featuring fashionable CDMA handset appearance, these GoTa consumer terminals support easy Push-To-Talk (PTT) function in addition to telephony, short message and data functions. Moreover, they come with a built-in FM stereo radio, camera, MP3 and external memory card, supporting GPS, BREW and WAP applications.

Conclusion
As the GoTa system is being gradually popularized, the number of GoTa users continues to grow. With its rich experience in the field of trunked radio communication, ZTE has been committed to meeting the needs of customers and it will develop varieties of GoTa terminals with firm structure, stable performance, friendly interface, complete functions, and advanced features.


(中国集群通信网 | 责任编辑:陈晓亮)