Customer Requirements
With the rapid growth of the global economy, sea transportation has been playing an increasingly important role in the economic and social development. A busy port necessitates well-organized commands. As the most important part of the wireless dispatch system for ports, the digital trunking system serves as a communications platform for coordination within a dock or between docks in a port. When the trunking system is integrated with the organizational structure and actual operation processes of a port, the port may have its basic requirements met as follows:
Improved onsite command and dispatch efficiency

Optimized command and dispatch system

Ability to communicate in the case of emergencies or disasters.
Solution Description
Currently, dispatch systems of many ports still jump on a conventional or analog trunking system. Increase in port traffic and business scope, however, poses more functional requirements than what a conventional analog system can handle. The Gota 4G-based wireless dispatch solution for ports can provide the voice, short message, intercom, data, and HD video services in different scenarios, such as arrival or departure of vessels, goods loading and unloading, hoisting, and forwarding. Diversified operation information can be obtained in real time and commands can be rapidly issued to improve the efficiency of port dispatch management.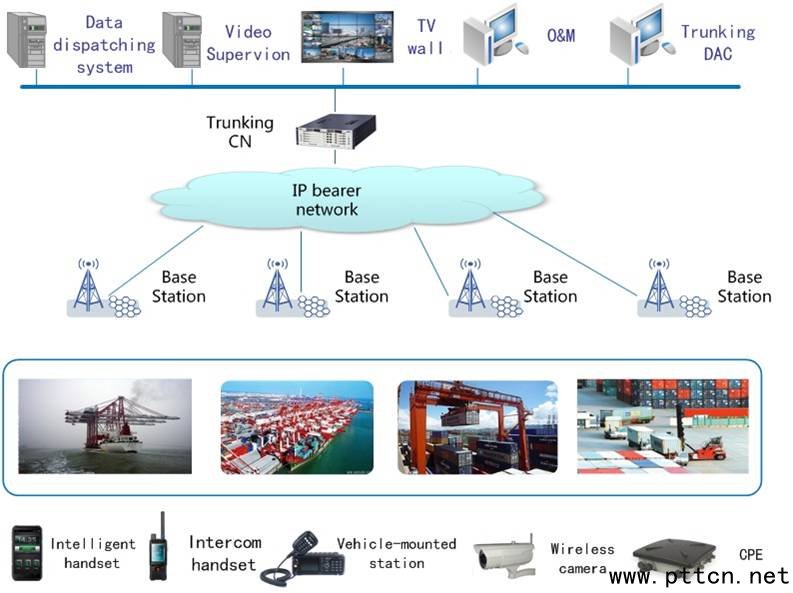 Solution Highlights
Fast deployment
Compact system devices, which are easy to carry and install and can be deployed flexibly to adapt to

different scenarios.

Wireless base stations with different powers, supporting deployment in either integrated or distributed mode and remote deployment of radio frequency (RF) units.
Unified communications
Unified dispatch of wired and wireless systems and organic integration between trunking intercom and electronic work orders

One console triple screens, supporting trunking dispatch, positioning, HD videos, and visual dispatch
Professional trunking
Multi-party response and quick access (within 300 ms)

Dedicated voice channel, featuring strong anti-interference capability, high volume and high definition
Standard evolution
ITU standard-compliant evolution and proprietary products

Globally commercialized equipment, meeting the interconnection and interworking requirements

(中国集群通信网 | 责任编辑:陈晓亮)