1 Overview
To date we can hardly see a possibility for the road construction progress in China to catch up with the skyrocketing growth of vehicles. The transportation industry faces a wide range of rigorous challenges, from traffic congestion to frequent traffic accidents, from vehicle overloading to traffic environment degradation, which raises new requirements for management of the transportation industry. Apart from increasing road infrastructure investment, transportation departments also need to fortify their traffic management capability. Under the circumstances, they shall aim at ensuring a safe and smooth traffic flow.
Nowadays, due to lack of radio frequency resources and the restrictions from the government on investment of transportation industry communication, only traffic police can be equipped with dedicated walkie-talkies but not for other departments such as the traffic enforcement unit, transportation management bureau, and highway administration bureau. Transportation management officers usually can keep in touch with each other by phone only. This one-to-one communication leads to low efficiency especially in large-scale enforcement activities, for example, Spring Festival travel rush. In joint actions among the transportation management department, traffic police department, and public security department, they can communicate by phone or walkie-talkie, which dramatically affects the communication efficiency in traffic management.
The GoTa system offers a communication solution that integrates multiple services including trunking communications, voice call, location-based services, and multimedia services. Introducing the GoTa system as a dispatch and command platform into traffic enforcement departments helps tremendously overcome the communication and collaboration boundaries in daily management. Moreover, the GoTa system combines a variety of traffic enforcement units and improves their cooperation and uniform commanding efficiency, greatly enhancing the urban traffic management level and reducing the traffic enforcement cost.
2.1
Vertical Hierarchical Management
The GoTa platform, as a cellular-based digital trunking system, integrates multiple services including trunking communications, voice calls, location-based services, multimedia, and data transfer and offers an independent dispatch and command system for all administrative units. A unit can be divided into several hierarchical groups based on its administration structure to facilitate quick delivery of commands and improve communication efficiency.
A traffic enforcement agent can press the PTT key to easily initiate a one-to-many group call, and other group members can hear the voice of the initiator without off hooking. Thus, collaboration instructions reach all members of a group instantly, which saves time and accelerates response time. In dispatching, a unit head can perform forced insertion based on his/her high priority to deliver commands in realtime to relevant personnel.
To cater for various complex dispatching demands in the transportation industry, the GoTa system offers not only basic services such as one-to-one calls, group calls, and emergency calls, but also several advanced services including prioritization, Dynamic Group Number Assignment (DGNA), user state query, forced insertion/release, and interception.
Besides the trunking Push-to-Talk (PTT) function, GoTa terminals also offer plenty of services including voice calls, short messages, camera, voice recording, radio network access, and Global Positioning System (GPS). Traffic enforcement agents can upload scene pictures to the dispatch management center (DMC) to facilitate evidence collection and help the DMC acquire scene information.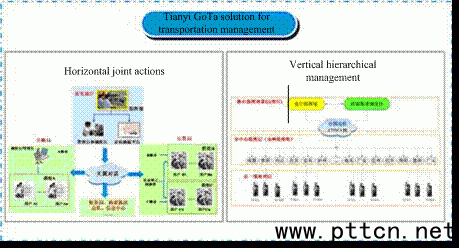 2.2
Lateral Joint Actions
The GoTa transportation industry application platform consolidates all independent administrative units in the transportation industry such as the provincial traffic bureau, roadway administration bureau, transportation management bureau and highway bureau into a uniform traffic dispatch platform. This drives cooperation, communication, and resource concentration of these units, and strengthens their work efficiency and collaboration capability.
The command and dispatch center (CDC) is at the top of the management pyramid and has the highest authority. It can conduct realtime dispatching and positioning for the groups and group members in affiliated units through professional management console and dispatch console.
To improve dispatch efficiency of traffic enforcement agents, the GoTa system is integrated with a positioning system. In this way, the CDC can get to the information about enforcement agent positions anytime and, in the event of an emergency, can dynamically set up a new group formed by groups or group members from different units to enable direct communication among them.
The GoTa solution allows safer and more efficient work by implementing both lateral dispatch — joint actions of multiple units, and vertical management — hierarchical management and provincial joint actions.

The professional CDC provides sufficient support for traffic safety management.

Powerful services and member priority settings ensure efficient transfer of commands and tremendously enhance work efficiency.

The GoTa system requires low cost in network construction and maintenance, provides a uniform dispatch platform, and supports resource sharing.

The GoTa system is capable of fulfilling the demands in both normal and emergent cases, and saving social resources while meeting work requirements.


(中国集群通信网 | 责任编辑:陈晓亮)