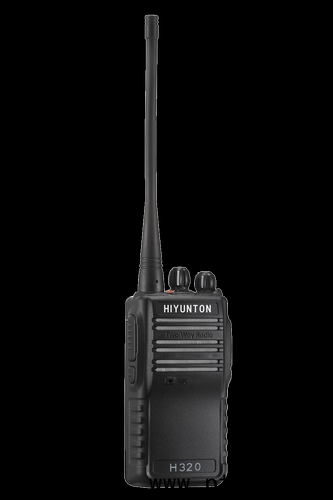 HIYUNTON H320 Portable Two Way Radio/Walkie Talkie from professional manufacturer Hiyunton. Super Quality and Competitive Price!
[Wide Communication Coverage]
High transmit power accommodates wide communication coverage up to 5km in openarea
The speaker delivers clearer and stronger audio because of improved acoustic mechanics, allowing users to continue communicating even in noisy and harsh conditions.
[Rugged and Durable Construction]
With rugged and compact design, the H320 is durable enough to withstand 1.5m drop.
[Extended Operation Time]
An extended life Li-ion battery provides 18hr talk time at a lighter weight, for greater productivity.
[High/Low Power Switchable]
By simple pressing one button, users can switch to low power when communicating within limited range coverage or switch to high power when further distance is required. High transmit power optimizes range coverage while low transmit power conserves battery consumption, the entire user's control.
[Programmable 12.5 kHz/25kHz channel spacing]
The feature enables flexibility and easy migration of channel spacing requirements when the need arises, with no need to buy new radios.
The feature allows users to monitor the activity on the current channel. It is especially helpful for receiving a weak signal.
The battery save feature is automatically activated once no activity on the channel and no operation performed, for extended operation time.
Automatically remind users to recharge when the battery level run low.
A channel already in use is not available to other users.
The feature allows for more efficient use of channels by limiting the amount of time of each transmission.
Easily copy the features of one radio to another.